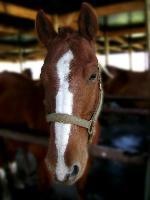 ORIGINS
Our horses come from Texas and it's surrounding states. Some horses once belonged to various friends, family, and their acquaintances. Some are acquired in auction or other normal transactions, and some are acquired with the intent to rescue them from dire circumstances. In every case, we try to gather as much information about our horses during the purchase process.
RENTAL HORSE
A "Rental Horse" finds its place quickly in the herd and earns our trust over a series of beach rides and many hours of grooming long before we rent them. We then ascertain the rider level capacity of the horse. Although most of our riders are beginners, we do keep a variety of horses to cater to all rider levels.
GUIDE HORSE
Our "Guide Horses" are horses that require an experienced rider and are, typically, ridden only by our guides. On occasion, experienced riders do request to ride these horses and permission is granted depending on each circumstance. For this reason we keep very few "guide horses" and keep the majority of our "rental horse" stable for beginner to intermediate riders.
RESCUE HORSE
A "Rescue Horse", as we define it, is any horse that we buy, or take in, that is underweight (lacking 200 pounds or more) and in need of extra tender-loving-care. To nourish them back to health, we incorporate a diet of special feed and supplements, with the added opportunity to freely graze as much as possible without the stress of competing within the herd. We will normally have anywhere from 3 -5 rescue horses at any given time. Once a rescue horse reaches a healthy weight and finds their place in the herd, we celebrate their journey by announcing them as a 'whole' horse that has found its place with us. As our website develops, we plan to feature stories and photos of certain rescue horses within our web pages, so be sure to check back soon.
SCHOOL HORSE
A "School Horse" is a horse that is used to give riding lessons. Some of our school horses also enjoy taking children riding on the beach.

COLT-IN-TRAINING
A "Colt-In-Training" is a young horse (less then 4 yrs old) that we are training for personal or special use. Training a horse requires an immense amount of time and patience, with individual attention needed daily to make progress.

STABLE FACTS
Here are some interesting facts about our current stable:

The average age of our horses is 5-10 years old.
The majority of our stable is comprised of Quarter Horses & Paint Horses;
We also stable Appaloosas, Thoroughbreds, Tennessee Walkers, and one Spanish Pony.
We do not have any draft horses at this time
Horse Care
DIET
Our horses graze on large rolls of coastal hay while in their paddocks. Rental horses normally receive two portions of grain each day, depending on their body weight, breed, and athleticism. We add an extra feeding in the summer months because the horses burn off extra calories trying to stay cool. Clean, cool water is always available for them.

MEDICAL CARE
A vet sees each horse on a quarterly basis, unless special circumstances exist call for immediate attention. All horses are wormed, possess current Coggins' test, vaccinations, and teeth floats. Horse hoofs are clipped by a Ferrier every 4-6 weeks. Scratches and scrapes are an unfortunate – yet normal - result of horseplay and the maintaining of pecking order in the paddock. We provide immediate care in this area by applying ointments as needed, and even relocating the horse if we sense that they are being bullied.

Horses For Sale
REASONS WHY WE SELL HORSES
The horse does not fit our program. Some horses never settle in to the routine of riding down the beach daily. They are not rude or misbehaving, it just isn't a relaxed event for them.
Sport. Sometimes we are approached by individuals wishing to purchase a particular horse for their own personal use. A horse such as this is often purchased as a pleasure, show, or sport horse.
Please call for current listing